Human Form:


Name: Schendel, Verena

Aliases: Vera; The Venomous Gauntlet

Gender: Female

Age: 17

Weapon Form: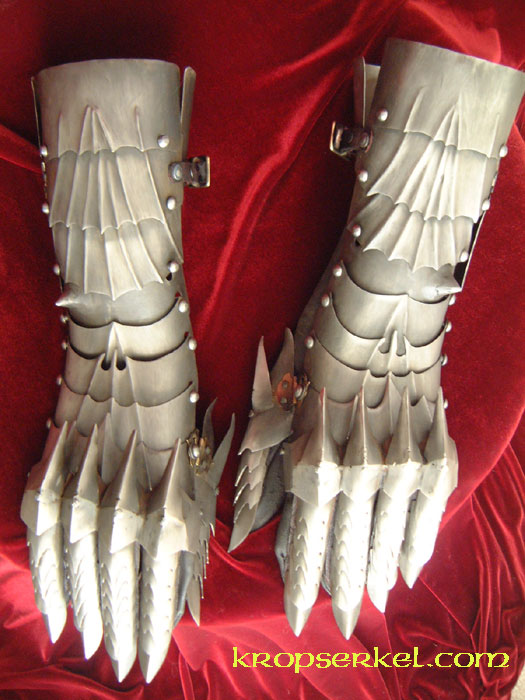 Pretty much that except it's only one gauntlet that's ebony with a purple, diamond shaped gemstone in the center.

Strengths: Lightweight weapon, access to poison (of pretty much any kind besides anything that causes instant death), sharp claws, ability to defend meister's covered hand (as weapons are normally near indestructible if I remember right...) in addition to neutralizing toxins in the meister's body.

As a dark weapon, Vera naturally has a bit of a strength boost but at the cost of some morals.

Weaknesses: Melee weapon (pretty much only usable in hand-to-hand combat), stronger poisons must be prepared before a battle and cannot be used infinitely (in most cases only once or twice per battle), poison must always enter through the blood and is sometimes not fast acting.

Oh and as a dark weapon, the longer she is maintained in weapon form the more draining it is on the meister in question's soul.

Meister: None at the moment.

Description/Appearance: Vera is about 5'10" -- decently tall with fair skin, sapphire blue eyes, and dark, amethyst-colored hair that is straight and barely shaggy about the ends. Her hair is a little longer than the norm for a girl and is kept up in a high ponytail with a black scrunchy most of the time. On her left ear is a skull earring (matching Lord Death's head) that is a darker purple than her hair, and near the top of the other ear are two plastic studs to match her eyes. Normally she wears a white tank top with baggy, black and purple camouflage pants. On both hands are black, fingerless gloves, and on her feet are black sandals. She has a black snake tattoo on her right shoulder.

Vera is also decently endowed...

 

Soul Description: Vera's soul is purple but a lighter color than a witch's soul. The top of the soul stretches into a snake that coils loosely around the whole soul like a barrier. The "face" of the soul is a normal, blank expression. A soul most compatible with hers would be one that is strong, kind, loves to fight, and has high self-control.

Personality: Vera has a fair temperament for the most part and is like any other girl, but at times she can become a little cynical and harsh towards the people around her. This is due to the fact that she's a dark weapon so her psyche isn't in the best of states. Deep down she's a nice person who wants some friends but tends to conceal all of her emotions with a cold gaze; smiling is a rare, and I mean rare thing to this girl. When in fights, Vera can become a very violent opponent which sometimes clouds her strategic side. In terms of intellect she's bright, but Vera prefers to spend her time enjoying the finer things like napping and of course fighting.

History: As a little girl Vera lived with her parents in Death City along with her big brother; she idolized and loved him thoroughly, but one day he got into an accident and unfortunately passed. At that moment Vera realized she could see her brother's pure soul, and being that she was just a kid, clinged onto it as if it were the last connection she had with him. Vera's (dark) weapon side emerged and her father tried to calm her down, only getting himself stabbed to death. Vera's mother was horrified, and Vera was transferred to the DMWA (by this point 13 years old). The rest of her time was spent training and learning at the academy. She's supposed to have a meister at her age, but hasn't been looking much since most are afraid of her reputation as a dark weapon. Luckily no one but Lord Death himself knows of her past. Vera so far has only ever consumed her brother's soul.

Abilities: In human form, Vera can concentrate a weak poison that is transferrable through kissing but only if she desires to. Other than that, she's a smart student albeit held back since she doesn't do her work. She has an extensive knowledge on poisons and their antidotes. She is unable to do part-weapon transformations.

Soul Resonance Abilities: During resonance, Vera's gauntlet becomes a bigger and sharper with a metal snake coiling around the arm of the meister. The gemstone on the gauntlet expands and grows a pupil. A 2.5' blade forms and is retractable coming the wrist of the gauntlet; it can also transfer poison and allows for a wider weapon range. The tips of each finger are fireable but do not regenerate immediately. The potency of any poison used during resonance is stronger and faster acting, but it is harder for the wielder to maintain this form from strain.

Other/Miscellaneous: Nothing I can think of right now...



~A sound soul dwells within a sound mind and a sound body.~
Last edited by Philandros11 on Sun 27 Apr 2014, 2:14 pm; edited 7 times in total



Posts

: 12


Reputation

: 0


Join date

: 2014-04-26


Age

: 21


Location

: Unites States

Character sheet
Souls:


(0/0)



If I have the time I might put up some concept art. :3
_________________
Verena Schendel
✦
Check 'em out if you've got the time.



Posts

: 12


Reputation

: 0


Join date

: 2014-04-26


Age

: 21


Location

: Unites States

Character sheet
Souls:


(0/0)




---
Permissions in this forum:
You
cannot
reply to topics in this forum